The Silk Trilogy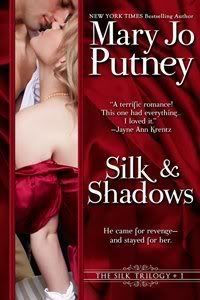 Like the falcon he named himself for, Peregrine is wild and free, an exotic prince who fascinates 1839 London with his wealth, mystery, and dangerous allure. Nothing and no one can stop him—except perhaps Lady Sara St. James, whose fragile beauty conceals a gentle heart, genuine goodness, and a soul of steel.

Unable to resist his seductive charm, Lady Sara turns away from her ordered life to embrace a man she loves, but cannot fully trust. In Sara, Peregrine sees a chance for a life beyond revenge. But can he keep her without revealing his devastating secrets? Or protect her from the enemy he has vowed to destroy?


Is the reunion story of Ross and Juliet, the headstrong wife who loved and left him when they were both very young. The two of them make a perilous journey to Central Asia to see if they can rescue Juliet's brother Ian, an army officer who was taken captive in Bokhara. In the process, they must come to terms with the past if they are to have a chance at a future together.


After years of captivity in western Asia, a courageous army major finds hope for the future in a bold woman who dares to accept his marriage proposal, shed her Victorian propriety-and unleash a sensual nature that will set him on fire.

Laura Stephenson and Ian Cameron's adventurous story wraps up the Silk Trilogy.