THE GUARDIAN TRILOGY
A KISS OF FATE * Book #1 * Ballantine/Del Rey Historical Romance

Duncan Macrae is committed to ending the ceaseless strife between Scotland and England. But he also has other, secret powers—those of a Guardian, humans with mystical abilities to control nature's forces and see into the hearts of others. From the moment he encounters Gwyneth Owens, his fiery spirit is irrevocably drawn to claim her as his own—a passion that will not only set his loyalty to his land against his sworn Guardian vows, but will also threaten everything he cherishes most.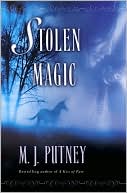 STOLEN MAGIC
* Book #2 * Ballantine/Del Rey Historical Romance
Simon Malmain is well known among the Guardians. Well known, but not always well loved . . . for those who enforce the law are rarely embraced by those whom they protect--and this is equally true whether the law is magical or mundane.
A need for each other's magic binds Simon to Meg. Together they must fight the rogue mage, Lord Drayton. For Drayton has a diabolical plan that will profoundly alter the course of Britain's future. Even the combined power of Simon and Meg may not be enough to stave off catastrophe. Only a desperate act of love may win back the future--or destroy all they hold dear.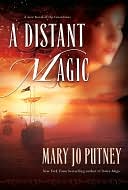 A DISTANT MAGIC
* Book #3 * Ballantine/Del Rey Historical Romance
Jean Macrae's family is one of the most prominent clans of Guardians but Jean considers her skills modest at best. She is content without the adventure that such skill brings…until the day she is confronted by a handsome stranger whose magic imprisons her on his pirate ship.
When Jean and Captain Nikolai Gregorio's irresistible connection summons a woman from the future, they are charged with a formidable task. This quest will sweep Jean and Nikolai into the most fantastic of realms, and try their powers beyond what even the Guardians would dare.